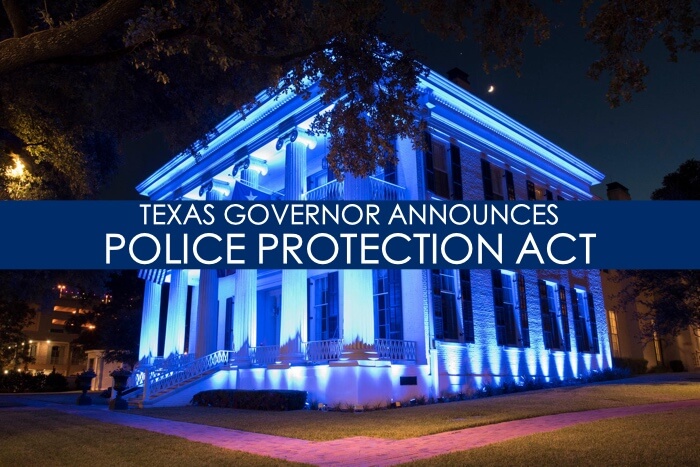 Texas Governor, Greg Abbott, Proposes Police Protection Act, Which Would Stiffen the Punishment for Violence Against Law Enforcement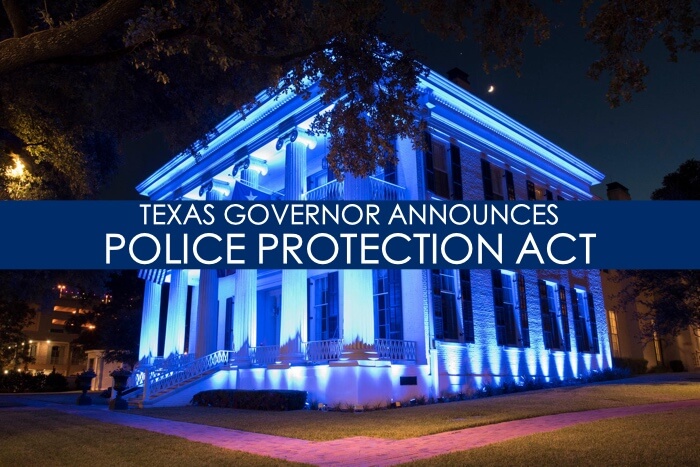 On Monday, Governor Greg Abbott called on both citizens and Texas lawmakers to get behind his proposed Police Protection Act in the 2017 legislative session. "While our state and the nation continue to mourn the heroes lost in Dallas, it is time for us to unite as Texans to say no more," says Governor Abbott. The proposed legislation will strengthen penalties against those who are convicted of crimes where police officers are the target. Just this month alone, five Dallas police officers have been fatally shot and nine others injured when a shooter targeted police following a public demonstration. This past weekend, three Baton Rouge police officers were gunned down by a shooter who was also targeting law enforcement officers.
The purpose of the Police Protection Act (the "Act") is to "make clear to anyone targeting law enforcement officials that their actions will be met with severe justice." Under the proposed Act, Governor Abbott will extend hate crime protections to law enforcement officers, increase criminal penalties for any crime in which the victim is a law enforcement officer, whether or not the crime qualifies as a hate crime, and create a culture of respect for law enforcement by organizing a campaign to educate young Texans on the value that law enforcement officers bring to their communities, among other provisions. "At a time when law enforcement officers increasingly come under assault simply because of the job they hold, Texas must send a resolute message that the State will stand by the men and women who serve and protect our communities," says Governor Abbott.
Governor Abbott's proposed Act would make the police a protected class, where penalties for those perpetrating crimes against law enforcement would be increased incrementally. For example, assaults on police officers could be reclassified from Class C felonies to Class B felonies, and so on. Further, the Act will support efforts by Texas State Senator, John Coryn, and his proposed "Back the Blue Act," which makes it a federal crime to kill, attempt to kill, or aspire to kill a police officer.
In recent weeks, lawmakers in other states have also made legislative provisions that protect police in the wake of the officer-targeted shootings. In North Carolina, Governor Pat McCrory signed a bill into law this week that makes dashcam video and bodycam footage exempt from public record, except under narrow sets of circumstances. In May, Louisiana Governor John Bel Edwards signed the "Blue Lives Matter" bill into law that makes an assault on veterans, police officers, emergency responders, and firefighters a possible hate crime. Louisianans convicted of misdemeanor hate crimes against officers will be fined $500 and face an additional sentence of up to six months.
In Texas, word of Governor Abbott's proposed Act is already gaining favorable ground. Grimes County Sheriff Donald Sewell emphatically states, "The Sheriff's Association of Texas is very pleased to hear our Governor is behind an effort to protect peace officers across our state…and we support our Governor. We look forward to working with the Governor during the 2017 legislative session to pass these important protections." Dallas Police Association President, Rob Pinkston, echoes Sewell, saying "The Dallas Police Association applauds Governor Abbott's bold plan in response to the recent wave of attacks on police officers."
About the violence on law enforcement, Governor Abbott tweeted, "Texas is saying no more," and, "We must unite and strengthen our commitment to protect law enforcement." Ray Hunt, President of the Houston Police Officer's Association says, "Governor Abbott's solution is the right approach for Texas law enforcement officers and the people of Texas who support them." Texas lawmakers will review the Police Protection Act in the 2017 legislative session, which begins January 10, 2017.