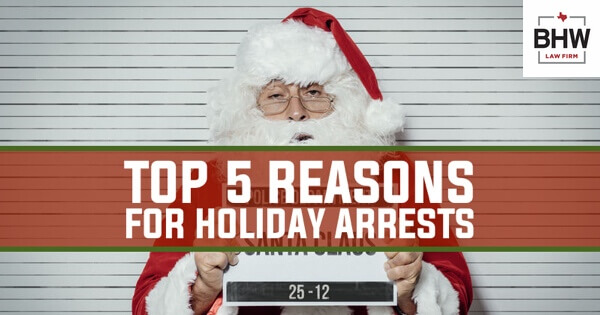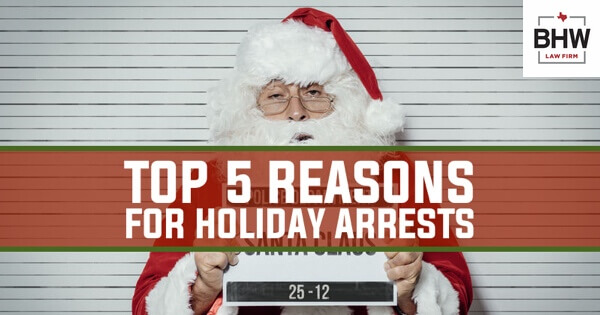 When you think about the Christmas season, you probably think about family time, presents, good food, and celebration. We think about those things too, but as criminal defense attorneys, we also think about the reasons that some of our clients get arrested during the holiday season. For this article, we took a look at the last 6 years of holiday season arrests (for clients that we represented) and compiled an (anecdotal) list of the top 5 reasons that folks get arrested during the Christmas/New Year's season. Our goal is that this list will serve as a warning, so that your holiday season can be filled with the good stuff, rather than jail, bail, and calls to our office. Here goes:
Many retailers slash their prices and offer steep discounts in the weeks leading up to Christmas and even bigger discounts after Christmas, but we have yet to see any retailer offer the "five finger discount" for their merchandise. Regardless, we see plenty of shoplifting cases during the Christmas season, making it our #5 reasons that people get arrested during Christmas. Depending on the regular price value of the item (not the discounted price), shoplifting theft charges can range from misdemeanors to felonies. Learn more about Theft law in Texas here.
In a similar vein to shoplifting, our #4 reason for holiday arrests is package theft. Many shoppers choose the convenience of online shopping and have their Christmas purchases delivered right to their front door. Some people see this as an easy target, following behind UPS or FedEx trucks to steal those would-be Christmas gifts from the front porch. However, with the increase in doorbell cameras, it is getting easier to catch the porch pirates in the act. Further, some law enforcement agencies have begun using dummy packages to bait thieves into getting caught. Package theft can range from a misdemeanor to a felony depending on what unknown treasure lay inside the brown box.
3. Airport Contraband (Guns and Drugs)
Going to visit grandma can require air travel for many families. This means that thousands more people than usual flood through DFW Airport between Thanksgiving and New Year's. It matters not from where these travelers hail. From Maryland to Oregon to France, if a person is arrested at DFW Airport, their case will be filed in Tarrant County, Texas and they will have to travel back to DFW to attend court. During the holidays, we see a surge in airport arrests when people bring items into the airport that are not allowed. These mostly consist of:
Even if the state from which a traveler is coming has legalized marijuana and the state to which they are traveling has legalized marijuana, if they are caught possessing marijuana in the airport, they will be arrested and charged. The combination of airport gun arrests and airport drug arrests make these types of cases our #3 reason for holiday arrests.
In the movie Christmas Vacation, Clark Griswold showed an enormous amount of restraint when his extended family pushed him to the limit (especially Cousin Eddie), but not everyone is blessed with such a cool head. Christmas time brings added stressors into the family environment that can sometimes lead to verbal or physical altercations between family members, so much so, that these arrests rank at #2 in our book. Depending on the nature of the assault, a domestic violence arrest can be charged as a misdemeanor or a felony. Learn more about Family Violence under Texas law.
With all of the Christmas and New Year's parties and the increase in No Refusal Weekends, it is not hard to guess that DWI arrests are #1 on our list. Driving While Intoxicated in Texas can range from a misdemeanor (if it is a first or second offense) to a felony (if there is a child in the car or if the person arrested has been convicted of DWI twice in the past). Our advice is to plan ahead and do not even take your car to a Christmas party when you plan to drink. Catch a ride from a friend or take an Uber or Lyft. That would be a lot cheaper than hiring an attorney and a lot less hassle too. Learn more about Texas DWI law here.
We Hope You Never Need Us, But We're Here if Your Do.
We wish you a very merry Christmas and a happy New Year. As always, we hope you never need us to represent you or one of your loved ones for a criminal offense. This is even more true during the Christmas season. Hopefully this list will help you avoid trouble that looms during the holiday season. If you do happen to need us, we are only a phone call away at (817) 993-9249.