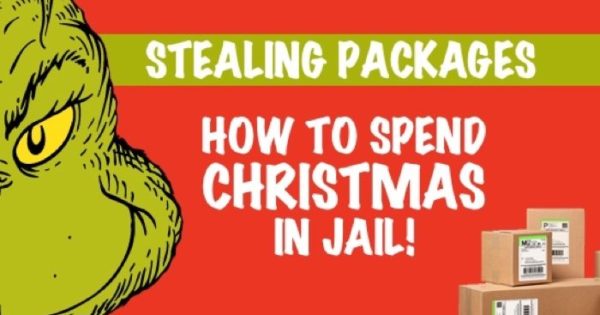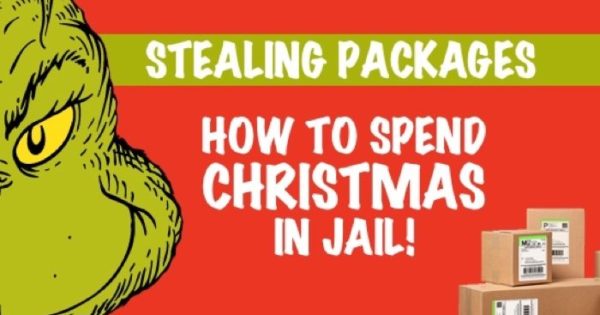 Throughout the year, package thefts occur on a fairly regular basis. But, as Christmas draws near and package delivery increases, so too do the thefts. While packages left on doorsteps and out in the open may seem to be easy targets for thieves, the consequences of getting caught are rarely considered. Would-be porch pirates should certainly think through their intended capers as many houses are equipped with doorbell cameras these days that capture clear video of any movement at or near the doorway.
What Can Happen to Individuals Who Steal Packages?
Grinchy thieves can face stiff penalties for stealing packages. In Texas, theft is classified by the amount of property that is stolen. Depending on the amount of the items stolen, a person caught stealing packages can face anywhere from a Class C misdemeanor punishable by a fine of up to $500 up to a First Degree Felony facing 99 years or life in the penitentiary. The latter would require someone stealing an item worth more than $300,000. While this may be unlikely, a thief wouldn't know what he or she is stealing until he opens up that box. In addition, if committed within the same criminal episode, the aggregate amount of the items stolen could increase the punishment ranges for the offense as well.
Theft Of Mail In Texas
In 2019, the Texas legislature passed another law aimed at package theft. HB 37 makes it a crime to steal mail (including packages) from mailboxes or homes. The punishment range of this new law is linked to the amount of homes from which mail is taken. If a person takes packages from fewer than 10 homes, the crime is a Class A misdemeanor; 11-30 homes is a State Jail Felony; and 31+ homes is a 3rd Degree Felony. Of course, if the value of the package would make the offense a higher felony, then the state could also choose to file a case for the greater offense.
What Happens When Multiple Individuals Act as a Team to Steal Packages?
The consequences of people acting in a team to steal packages can increase the acts to the offense of Engaging in Organized Criminal Activity. In Texas, a person commits the offense of Engaging in Organized Criminal Activity if with the intent to establish, maintain, or participate in a combination or in the profits of a combination or as a member of a criminal street gang, the person commits or conspires to commit theft. Tex. Penal Code 71.02. This increases the punishment one category higher than the offense originally committed. Most often, these types of cases are filed as 3rd degree felonies which carry a range of punishment of between 2-10 years in prison and up to a $10,000 fine.
Punishments for package theft can be harsh. While a person may be stealing property worth only a few dollars, they may also be stealing property worth thousands. The potential punishment a person faces for package theft may not deter thieves but there are certain other things that citizens can do to prevent these acts from occurring.
How to Prevent Package Thefts
The primary means by which package thefts are being prevented are with the increasing use of video surveillance. Individuals looking to steal packages off of front porches are becoming more and more aware of doorbell cameras and other small home surveillance cameras. The increased media coverage of these incidents and the increased capture of thieves by way of theses surveillance methods is enhancing deterrent efforts. YouTuber Mark Rober also continues to perfect his package theft glitter bomb, which could aid in the deterrence effort.
Despite the fact that security cameras are gaining in popularity (and the media reports on a regular basis of people being caught because of them), package thefts in Texas have not been eliminated. There are still those individuals that choose to ignore the possibility of getting caught and the potential consequences. And, for those folks, maybe it would help to reflect on the words of The Grinch, "Maybe Christmas doesn't come from a store. Maybe Christmas…perhaps…means a little bit more!"
But for those individuals who persist and ignore the warnings and advice – and reflections from the Grinch – the BHW phone line is always open – just don't say we never told you so!