One License Plate or Two: Does Your Car Need a Front License Plate In Texas?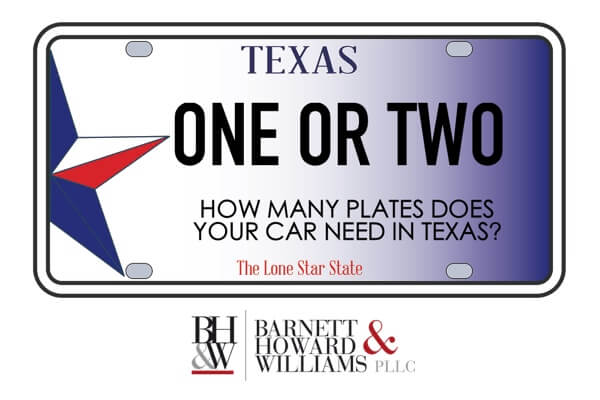 How many license plates does your vehicle need in order to comply with Texas law? Do you need one or is there a two plate rule? Should you drill holes into the front bumper of your car to install a front license plate, or will you be alright with a rear plate only? If you are reading this article, perhaps you have exhaustively Google-searched license plate laws out of frustration. Find out what the Texas Transportation code says about license plates and what the implications are for you, the Texas motorist.
Do I need a Front License Plate in Texas? Yes. Texas law requires that every vehicle maintain a license plate in the front and rear of the vehicle.  The current fine for failing to display a front license plate in Texas is $200.00.
Do I need a Front License Plate in Texas? | An Error In the Texas Transportation Code Created a License Plate Loophole
Since 1934, Texas law has required that Texas motorists display a front and a rear license plate. In 2011, House Bill 2357 modified the statutory language making driving a vehicle without displaying a front and a rear license place both illegal and punishable by a fine. In January of 2012, Texas lawmakers revised the transportation code, once again, to include several new provisions. However, in the process of making revisions, the provision mandating a penalty for vehicles not in compliance with the "two plate rule" was accidentally stricken from the Texas Transportation Code. From January 2012 to September of 2013, law enforcement could not lawfully issue citations for failure to display a front license plate. Unfortunately, this brief period of time also created a lot of confusion around the "two plate rule" that reverberates to the present day.
Texas Lawmakers Amend the Code to Close the Loophole | Front License Plate Now Required in Texas
The two plate rule was originally created for the purpose of making identification of vehicles and their owners more efficient for automatic plate readers and law enforcement agencies. In 2012, the Texas A&M Transportation Institute ("TTI") issued a report, citing overall effectiveness of the two plate rule, unlike states that only required one rear license plate on a vehicle. TTI found that front license plates were (1) easier to read in the daylight; (2) helpful in toll billing; (3) aided law enforcement in tracking down violators of the transportation code by way of automatic plate readers; and (4) allowed Homeland Security and U.S. Customs and Border Protection to process and screen vehicles more effectively and quickly. Thus, the front license plate requirement in Texas.
Aware of the inadvertent loophole created by omission of the penalty provision, lawmakers amended the transportation code in September of 2013 to mandate punishment for Texas motorists who do not display both the front and the rear license plates. Motorists who do not have a front license plate risk incurring a Class C misdemeanor charge, punishable by fine not to exceed $500.
Implications For the Texas Motorist | Texas Front License Plate Law | Penalty for Front License Plate Violation
Currently, the penalty for operating a vehicle without a front license plate is $200.00 – subject to change with subsequent legislation. However, there may be more to this than meets the eye. Generally speaking, when a vehicle is out of compliance with mandatory safety and administrative regulations (such as only having a rear license plate), by statute, Texas law enforcement has "probable cause" to conduct a traffic stop. At minimum, such a traffic stop could include pulling the vehicle over, running a check of the license plate, researching the driver's license and registration of the motorist, and issuing a citation for violating the two plate rule.
In sum, a Texas motorist who drives without both plates risks being pulled over for a lawful traffic stop and fined at least $200.00 for a misdemeanor traffic offense.
References: