Baby On Board: What Does Texas Law Say About Keeping Our Kids Safe in the Car?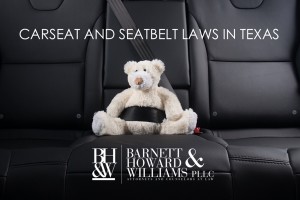 We've all seen those yellow "Baby on Board" signs proudly displayed by new parents on the back windows of cars. In a perfect world, drivers would slow down and car accidents involving children would never be an issue. But we don't live in a perfect world. The Insurance Institute for Highway Safety ("IIHS") reports that car accidents cause one in four unintentional injury deaths in children younger than 13. The IIHS explains that while most crash deaths occur among children traveling as passengers, proper restraint use dramatically reduces these fatalities.
Such statistics are a sobering reminder that we must do all we can do to ensure that our kids are safe while traveling in a car. So what can Texas families do to make our daily commutes safer for our children? What does Texas law say about keeping our kids safe in the car?
Car Seat Laws in Texas
The car seat law in Texas, meaning the rules for which you can be issued a Class C citation, are provided in the Transportation Code. Section 545.412(a) of the Texas Transportation Code states:
"A person commits an offense if the person operates a passenger vehicle, transports a child who is younger than eight years of age, unless the child is taller than four feet, nine inches, and does not keep the child secured during the operation of the vehicle in a child passenger safety seat system according to the instructions of the manufacturer of the safety seat system."
SUMMARY OF TEXAS CAR SEAT LAW:
8 years – Children must remain in some sort of car seat or booster seat system until they are 8 years old;
4'9″ Tall – If a child younger than 8 is taller than 4'9″, he or she may ride in a normal seat without a booster; and
Follow manufacturer instructions – It is a violation to use a safety seat improperly.
One of the important parts of the Texas car seat law is that seat must be properly installed according to the manufacturer's instructions. USA Today reports that nearly half of all car seats are installed improperly.  Many law enforcement agencies are trained to understand proper car seat installation. While it is unlikely that an officer will issue you a citation if you have a car seat that happens to be improperly installed, you should still make sure to get your car seat checked out for the safety of your child.
DEFENSE: It is a defense to prosecution that the individual is operating their vehicle during an emergency or for a law enforcement purpose.
PENALTY: Failure to comply with §545.412(a) may result in a fine ranging from $25 to $250, plus court fees.
Car Seat Guidelines in Texas
Some additional car seat tips are provided as safety guidelines or best practices, meaning that there is not a law on the books in Texas covering this.  However, these are good practices that are taught by doctors and child car safety experts:
All infants and toddlers should ride in a rear-facing car seat until they are at least two years old, or until they max out the weight or height limits per the manufacturer's limits.
Children two to four years old may ride in a forward-facing seat according to the manufacturer's recommendations.
Use a booster seat for children four to eight years old, according to the maximum height or weight limits provided by the manufacturer.
Most seat belts will fit a child that is 4'9″ tall (normally around 10 years old).  If your child is not 4'9″ tall, you should consider keeping them in a booster seat to ensure proper seatbelt fit.
Seat Belt Laws in Texas
Under Texas law, all passengers in a motor vehicle must wear a seatbelt.  There are a few exceptions, like for postman, paper delivery crews, or garbage men; but for the average driver and passenger on the Texas roads, you must wear a seat belt. Section 545.413(a) of the Texas Transportation Code covers seat belt laws in Texas.  The law states:
"a person commits an offense if the person, who at least 15 years of age, rides in a passenger vehicle while the vehicle is being operated and is occupying a seat that is equipped with a safety belt, and is not secured by a safety belt."
Further, §545.413(b) states that:
"a person commits an offense if the person operates a passenger vehicle that is equipped with safety belts and allows a child, who is younger than 17 years old and not required to be in a safety seat system, to ride in the vehicle without requiring the child to be secured by a safety belt."
Can a Teenager Ride in the Bed of a Pickup Truck? No. Under Texas law, no person under 18 years of age may ride unrestrained in the bed of a pickup truck.
PENALTY: A violation of the seat belt law in Texas can result in a fine of $25 to $200 depending on the situation.
For teenagers, who are legally permitted to ride in the front passenger seat, the Texas Department of Transportation advises that wearing a seat belt while sitting in the front seat improves survival of a car accident by 50%. To be effective seat belts must be used properly—lap belts need to fit snugly on the hips and shoulder belts should go over the shoulder and across the center of the chest. Texas law says that safety belts—designed for adult use only—are not adequate for children under 8.
Front Seat and Back Seat Passenger Laws in Texas
There is not a law in Texas regarding who may ride in the front seat.  The driver must follow the car seat and seat belt laws, but there is not a law prohibiting any person or child from riding in the front seat. However, according to the safety "guidelines," anyone under age thirteen should be restrained in the back seat due to concerns with airbag impact.
Yes, but only for 5 minutes.  In 2010, thirteen children in Texas were killed by vehicular heatstroke. As a result, the Texas legislature enacted laws dealing with the amount of time children can be left in a vehicle unattended. Under Texas Penal Code §22.10(a), "a person commits an offense if he intentionally or knowingly leaves a child in a motor vehicle for longer than five minutes, knowing that the child is (1) younger than seven years of age; and (2) not attended by an individual in the vehicle who is 14 years of age or older."
An offense under this section is a Class C misdemeanor. However, if the child is injured as a result of being left in the car, the crime can be increased to a felony, punishable by up to two years in jail and a $10,000 fine.
For More Information About Car Safety in Texas:

Barnett Howard & Williams PLLC
based on
57 Google+ Reviews.