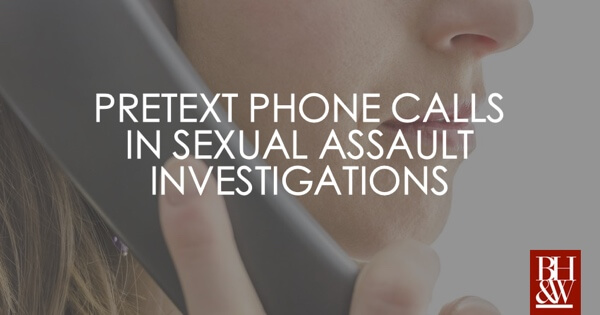 Did you ever get the feeling like someone is recording your conversation? Texas is a one party consent state meaning your conversations can be recorded and listened to by third parties as long as one party to that conversation consents. In sexual assault investigations, especially where the victim knows the suspect, investigators often use recorded phone calls between the suspect and the complaining witness of the alleged assault. These recorded calls are called "pretext" phone calls. Not only will these phone calls be used to build a case against a suspect but might also be used in court against the suspect.
What is a Pretext Phone Call?
A pretext phone call is a tool used by police officers in the early stages of investigation, especially in sexual assault investigations. It is a tape recorded phone call between the victim and the suspect made by the victim or a close friend of the victim. The phone calls will be made under the supervision of police officers and most preferably the lead investigator or detective. The victim will be provided with all of the equipment necessary to record the phone call. Additionally, the victim will be given direction by the officers on the time of day or night to call the suspect, what type of questions to ask the suspect, and what to prepare for. The victim will be told to ask questions in certain ways that are more likely to solicit an incriminating response instead of just going full speed ahead with the "Why did you rape me?" question, which, for good reason, will cause the suspect to shut down or become defensive stating they did no such thing. An example of a question a victim might told to ask is "Why did you have sex with me after I pushed you way and told you to stop?"
The purpose of pretext phone calls is to, hopefully, obtain an incriminating statement by the suspect. The statements made by the suspect will be used to build the case against the suspect by corroborating information that the victim has told the police officers and help make victim testimony more credible in front of a jury.
Pretext Phone Calls—Used in Drug or Alcohol Related Sexual Offenses and Where the Victim and Suspect Know Each other
Pretext phone calls are often utilized in cases where the victim and suspect know each other. This is because the victim will already have the suspects phone number and vice versa or the victim can come up with a creative way for how they got the suspect's number, i.e. "I got your number from John Doe, our mutual friend." Also, they can be particularly helpful in drug and alcohol related sexual assault cases where they knew each other, even if only acquaintances. In such an instance, the victim will be directed to ask questions such as, "You knew I was out of it and didn't know what was going on, but you had sex with me anyway. Why?".
When Can Pretext Phone Calls Be Made Under Texas Law?
Preferably, pretext phone calls should be made before the suspect knows there is an investigation against him. For legality purposes, pretext phone calls must be made before a suspects Sixth Amendment right to counsel attaches. Rubalco v. State, 424 S.W.3d 560. The Sixth Amendment right to counsel attaches "at the first appearance before a judicial officer at which the defendant is told of the formal accusation against him and restrictions are imposed on his liberty." Id.
Thus, if there are no Sixth Amendment issues, pretext phone calls will likely be admissible against the suspect in trial. Id.
Be Aware That Your Phone Conversations Might Be Used Against You
Being in the state of Texas we should all be aware that every phone conversation we have can legally be recorded but you should be especially aware if the conversation gets serious. If you have any "hunch" that an investigation against you might be underway for an alleged sexual assault, contact our experienced attorneys today to learn your rights during these investigations.