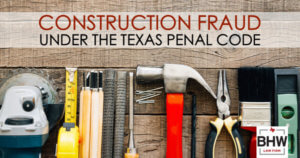 Have you sustained property damage in a powerful storm? If so, you probably had to call a contractor to do necessary repairs. It is sometimes customary in the construction industry for contractors to ask homeowners to pay for some of the work up front, and pay the remaining balance upon completion. Some contractors will ask you to fork over a hefty deposit to someone you do not know, yet you are trusting to get the job done. You are not alone. The good news is that most contractors will operate above the board. Even though social media reviews and ratings sites, such as Angie's List, are sensible ways of vetting contractors and service providers in 2020, they cannot predict future white collar crimes perpetrated by individuals who are focused on scamming construction deposits out of desperate homeowners.
What Happens if Your Contractor is a Crook? | Construction Fraud in Tarrant County
What legal remedies are available to homeowners in Texas when a contractor pulls a Houdini, vanishing into thin air, cash in hand, without completing the repair work? Contractual breach is the most common civil cause of action. Generally, a contractual breach occurs when (1) there is an existing contractual agreement that is (2) performed (paid for) by one party, yet (3) the other party did not perform as agreed to, which (4) caused damages to the performing (paying) party. Material breach of a roofing contract may occur without intention, when a contractor takes too long to complete a project, or perhaps uses substandard materials, for example. This civil cause of action addresses the damages to the individual, but does not hold the wrongdoer accountable in a criminal court.
So what about those instances in which a scammer intentionally preys upon homeowners in the hopes of pocketing the cash and skipping town? Is this a criminal act?
Construction Fraud Prosecutions in Texas
Tarrant County, Texas has recently begun focusing prosecution efforts on contractor fraud. Homeowners in Tarrant County may call their local police agency to make an initial report. Additionally, homeowners may call the Tarrant County District Attorney's White Collar Crime and Public Integrity Unit, created by Sharen Wilson, the District Attorney in Tarrant County. Wilson stated in a recent news article, "Construction fraud is a crime, and our citizens need to be protected from it."
When homeowners call the DA's office, they will talk with a representative to see if the wrongdoing rises to the level of a complaint. If a complaint is filed, the DA's office reviews the facts of the complaint for potential prosecutable offenses based on a variety of legal theories in criminal law. If the DA's office finds elements of criminality, an investigation ensues which may result in criminal charges for the wrongdoer.
Construction Fraud Under the Texas Penal Code
The Texas Penal Code does not specifically provide a code section for construction or contractor fraud crimes. What are some of the legal theories and statutes the DA's office is using to go after these home repair Houdinis? The Tarrant County DA's office has prosecuted construction and roofing contractors who have absconded with the funds for misappropriation of fiduciary property, theft, insurance fraud, and elder financial abuse, to name a few.
Recently, the Tarrant County DA's White Collar Crime Team prosecuted a man for theft from elderly victims. For his crimes, this man received three years in jail and an order to make restitution of $77,000.00 to his elderly victims. On multiple occasions, the man used aliases to approach homeowners in the mid-cities and Fort Worth areas, soliciting demolition and repair work. He accepted large sums of money, but never completed the work, or, did substandard work.
In January of 2019, another man pled guilty to Theft of $150,000- $300,000, for scamming 41 residents in the Arlington, North Richland Hills, and Mansfield areas, out of funds they paid him for roofing repairs. This man's scheme involved sending employees door-to-door to sign customers up for repairs. The employees took checks from the victims, but the roofing work never began. As part of his plea agreement, the man was ordered pay the victims $230,000.00 in restitution.
Each of these types of cases is fact-specific and context-laden. Tarrant County has decided to take a strong stand against construction fraud. "We have made it a priority to put white-collar criminals on notice in Tarrant County—we will not tolerate scammers preying on our residents," says Matt Smid, chief of the DA's White Collar Crime Team. The county has also taken steps to provide the public with information regarding scams and fraud that is targeted at seniors. If you feel that you have been a victim of contractor fraud, you do have some options in Tarrant County.
Special Note to Attorneys who represent victims or perpetrators of constructions scams, implicating civil and criminal causes of action: Texas Disciplinary Rule of Professional Conduct 4.04(b) states that a lawyer shall not present, participate in presenting, or threaten to present criminal charges solely to gain advantage in a civil matter. According to the Texas Center for Legal Ethics, "giving notice required by law or applicable rules of practice, or procedure as a prerequisite to instituting criminal charges, does not violate the Rule, unless the underlying criminal charges were made without probable cause."