Know your Rights and Responsibilities Before Using Deadly Force for Self Defense in Texas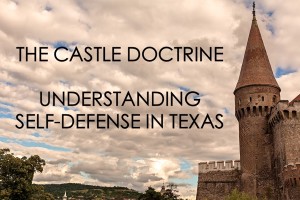 You may have heard about Texas Stand Your Ground Law or The Castle Doctrine.  These ideas refer to "standing your ground" in your "castle" against intruders by using deadly force to protect yourself.  But do you know when you can use force and what kind of force can be used? Understanding the Texas gun laws is incredibly important so that you know exactly what you can and cannot do when protecting yourself or your home, car, or business.
What exactly is the Castle Doctrine? When Can Deadly Force be used for Self Defense Purposes?
In Texas, Section 9 of the Texas Penal Code provides legal justifications for the use of force in a limited set of circumstances when a person has no duty to retreat. For example, a homeowner in his own home does not have a duty to retreat and may use deadly force to protect himself against an armed intruder. This would be the same for a business owner in his place of business and a truck driver in his own truck.
Texas law provides for a justifiable defense at trial when using deadly force if the person claiming self defense:
Reasonably believed the deadly force was immediately necessary;
Had a legal right to be on the property;
Did not provoke the person against whom deadly force was used; and
Was not engaged in criminal activity at the time the deadly force was used.
What is Considered Self Defense in Texas?
Self Defense will be a justifiable defense so long as the type of force used is reasonable and necessary in the moment to protect against an attacker. A person may use force against another when they reasonably believe it is immediately necessary to protect from another's "use or attempted use of unlawful force." A person may use deadly force in self defense under Section 9.31 of Texas Penal Code if he:
Knew the intruder unlawfully with force entered into his home, vehicle, or place of employment; or
Was being kidnapped; or
The intruder was attempting to sexually assault, rob, kidnap, or murder.
What is the Difference Between Deadly Force and Threat of Force?
Threat of force is when a person displays a weapon as a threat, showing that they will use deadly force to cause death or serious bodily injury if necessary. Texas Penal Code §9.04.  Threat of Force is a precursor to the use of Deadly Force.
For example, a landowner, on his property, sees a trespasser running towards him. If the landowner decides to turn in such a way to display his holstered, loaded gun which causes the trespasser to run off the property, Texas law says this is likely a justifiable threat of force.
When is Defense of Another Person Justifiable?
A person is justified in using force or deadly force to protect a third party if he believes intervention is immediately necessary and would be justified in using force or deadly force to protect himself against the unlawful force in the same circumstance.
However, use of force is not justified if in the use of force to protect a third party, the person gets the circumstances wrong and ends up seriously injuring or killing an innocent third party.
For example, a man sees his friend in a fight and intervene by using deadly force to protect his friend and kills the third party. The man did not realize that the third party was actually using force as self defense against his friend. In this situation, the man would not be able to use defense of others as a justification for killing the third party.
Protection of One's Own Property
Under Texas Penal Code §9.42, a person may use deadly force against another to protect land or property if:
He is the owner of the land;
He reasonably believes using the force is immediately necessary to prevent arson, burglary, or robbery; and
He reasonably believes that the land or property cannot be protected or recovered by any other means.
Know Your Rights and Responsibilities
In conclusion, while Texas law does have a few justifications for use of force and deadly force, the justifications are only proven in a very limited set of circumstances. Further, even if a person has a justification for using force, he may still be arrested and face trial. Additionally, even though an actor may have been justified in using force, he may still face civil litigation and penalties associated with the use of force against another.
Using force for self defense purposes is a serious response and should only be used in truly dangerous and threatening situations. Texas law makes it abundantly clear that those who use force will only be justified in doing so if they meet specific criteria, given the circumstances, and acted as a reasonable person would have under the same or similar circumstances.
Fort Worth Gun Crimes Defense Attorney

Rating:

★★★★★

5 / 5 stars

Rated By

Google User

"Absolutely amazing! It was comforting to know I had a Marine veteran defending my case."